As the #SpeakYourTruth Challenge continues — let's talk about how to find time to do what matters to you (and speak your truth).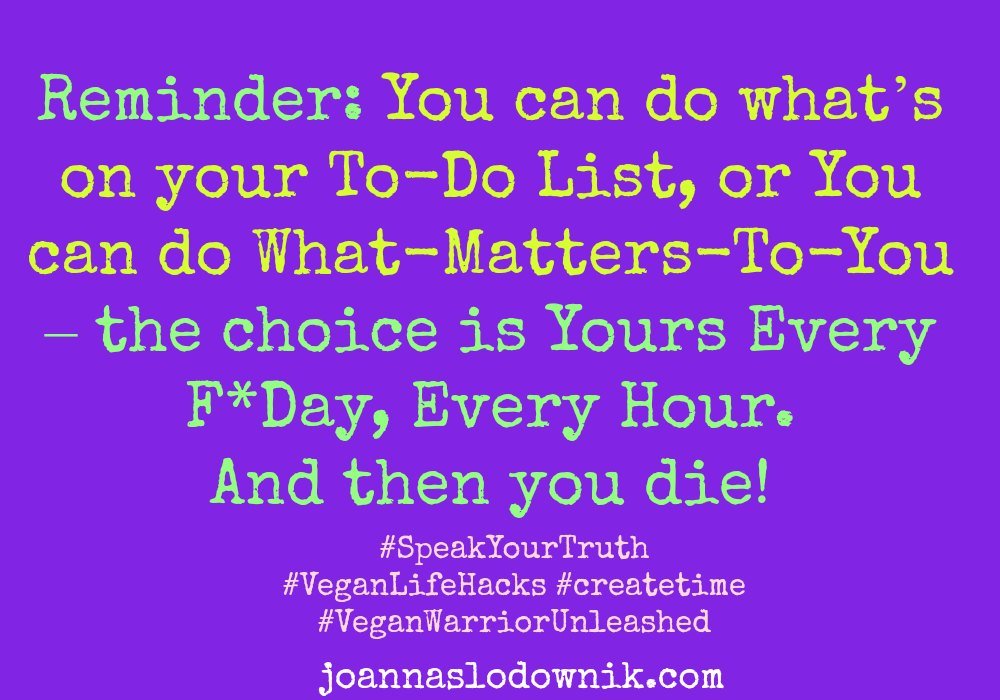 So, you don't have time to do what matters to you? To speak your truth every day? Really? That's your excuse?
Reminder: You can do what's on your To-Do List, or You can do What-Matters-To-You – the choice is Yours Every Day, Every F*Hour. And then you die.
So let's talk HOW TO FIND TIME. Creating – starts with creating time.
Life Hacks for Vegan Warriors & Creators: The Magic of 5:30 AM
Creating, living your purpose, speaking your truth – starts with creating time.
Creating TIME for yourself.  Time to write. Time to create. Time to reflect on things. Time to read and think and take action on things that are most important to you. During the day – it's hard. There are too many distractions. It's not that I'm not THINKING about those things, but I just don't have enough quiet, uninterrupted time to focus on what I really need to do; no – on what I MUST do, to get those ideas out of my head and into the world – because I seem to be called to do it (I guess this is called your purpose? Destiny? Mission? – whatever. It simply MUST BE SAID, CREATED, LET OUT – or else … I don't know? I'll die bitter and unfulfilled? Maybe, maybe not. Certain things will remain UN-DONE and UN-SAID? Maybe, but maybe not – maybe someone else will say them better. So I guess it is a calling.
Getting up early – may seem brutal.
For me – 5 AM has become the MAGICAL hour.
When you finally have quiet and uninterrupted time – it's when you can do your soul's work. Express and let out what needs to get out. What simply MUST get out. This is when the MAGIC happens.
Or NOT.
Sometimes you're just cranky and sleepy, not sure why you're even torturing yourself, feeling like you have nothing to say and wishing you could just go to bed and stay there till a decent hour – like everybody else.
But no!
You have IDEAS in your head.
Bubbling. Not letting you sleep. You may forget about them during the day, when you are busy doing other things – but then something happens that stops you in your tracks and they're BACK.
Because YOU have a PURPOSE to live.
You have a MISSION to carry on.
Time may be hard to find. We're all busy. Things that are not essential and pressing – are put off for later.  But later never comes. Later is always – later.
So. Time to get real. Do you want it, or not?
The things that you're putting off?
Because, if you do? Then it's time to find the time!
We all have the same amount of time each day – 24 hours. Isn't just amazing what some people can do during this time? It just blows my mind when I look at some people who accomplished so much – and I cannot help but wonder how did they manage TO DO SO MUCH in that SAME TIME that you and I have?
Do they have some kind of f*cking SUPER-POWERS?
Or do they simply have the focus, the discipline (habits!), and know what truly matters to them?
On the other hand, isn't just amazing how you can spend entire day BEING BUSY, yet not getting anything accomplished. Sure you've checked things off your to-do list, but why do you feel like you're wasting your LIFE?
You can have that too, you know.
Those super-powers. It's just a matter of choice.
Don't have the time? Create time!
Here are just a few ideas I wrote down for myself:
Get up earlier. I'm working on getting up at about 5:30, after 6 hours of sleep, and maybe getting 15 minute nap about 2-3 PM during the day to replenish my energy and brain power. Waking up this early gives me 2-3 hours of quiet and mostly uninterrupted time to do my thing. It creates a nice BLOCK OF TIME that's essential to get into my head and my heart. To sort things out. Think. Create. Strategize. Write.
Go to bed later. This is an option, but it doesn't work as well as for me as waking up early.
Find 15-25 minutes here and there during the day. Instead of watching television or checking email or Facebook. It's amazing how much you can get done in just 25 minutes if you focus your attention.
Do less house work – less cleaning and shopping – find help and shop online. (I've recently discovered that you can do grocery shopping online and have it delivered for free – saving about 2-3 hours per week.
So those are my life hacks for creating time. That's my action plan – what's yours?
Do you have enough time during the day to do the things that matter to you? Not the urgent stuff on your to-do list, but living your dreams, your deepest desires, your purpose.
How could you create even MORE TIME for THAT?
Let's change the world TOGETHER, SOONER rather than later.
If not now, then when?
If not you, then who?
Joanna
.
PS. Check out my #SpeakYourTruth CHALLENGE and unleash your inner warrior.  It's about sharing our truth with the world, telling it like it is — the way we see it, and taking ACTION. Join HERE.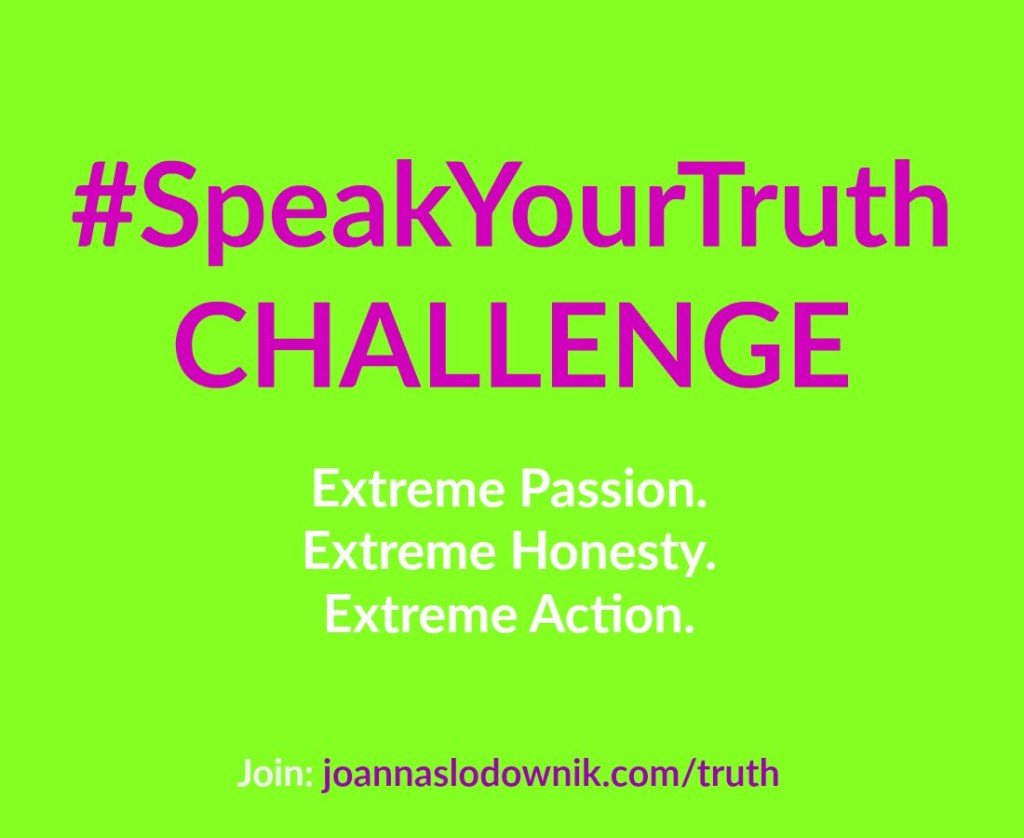 PPS. I'll also be launching the Tribe (Society) of Vegan Warriors for Change membership – so to be notified about it – FRIEND ME on Facebook, like my Facebook page  or sign up to receive notifications (you may sign up for the #SpeakYourTruth Challenge, for example), or just come back and check this blog or my Twitter page for official announcement.
PPS.  If you'd like to work with me I'm opening a few spots to work with me in 2016 one-on-one Private Coaching and Consulting to HELP YOU BUILD YOUR ONLINE EMPIRE to have a platform to publish your TRUE MESSAGE, start attracting followers who RESONATE WITH YOU, love you and want to listen to you, and start creating your LEGACY online — and start making a bigger difference in the world, while living a life that's full of passion, purpose and joy (isn't it what it's all about in the end?).  I'll guide you through all the confusing technical details of setting up a website/blog, social media strategy for DOMINATION and AUTOMATION, help you get your first book written and published, and whatever else you've been dreaming to do online (–I'll even do those things for you if you don't have them and are technically challenged, and teach you how you can do it yourself from now on).  I'll also work with you to help you fine tune your message and find your tribe. I've been doing online marketing for many years — so I know what it takes to succeed.
Sign up for the 6 Weeks of INTENSIVE One-On-One 2016 Private Coaching, Consulting and Mentoring program for $997 HERE (or get payment plan 3 payments of $397). If you'd like a strategy session first to discuss whether or not we're a good fit – sign up for a $97 session HERE.
Either way — I invite you to stay in touch:
follow me on Twitter