Fact: No matter how much you know (or think you know), there's always MORE STUFF YOU CAN LEARN (you'd really be surprised!).

No matter how many Youtube videos you watch, the best way to learn to cook vegan is by teaching people HANDS-ON how to do it, in a friendly environment, where they can taste the food that's vegan, ask questions and so on….
No matter how many people you know, there are always more awesome PEOPLE that you haven't met yet — even in your own community.
No matter how many VIRTUAL friends and fans you have on Facebook, meeting people FACE-TO-FACE is still the best way to interact closely with another human (and non-human) being — as well as EASIEST AND MOST POWERFUL WAY TO INFLUENCE THEM, EDUCATE THEM, TRANSFORM THEIR LIVES, and even SELL TO THEM.
Why am I even talking about this today?
I went to Easter cooking workshop yesterday, and it was great. I've been vegan for three years now, so I know a thing or two about vegan cooking, especially blending (and this workshop relied heavily on blending), and still I managed to learn some AWESOME easy-peasy recipes that surprised me – egg-free pate, for example, that tasted EXACTLY like eggs. Not that I miss eggs, mind you, I haven't eaten eggs in three years– because I know what is involved in producing them – but when I tasted the recipe – it was really delicious! Just like I remember eggs would taste!
(This is thanks to black salt. Specifically, Kala Namak, a pungent smelling purple-ish or pink-ish gray rock salt that is often used in India. Not to be confused with black lava salt, which is just sea salt that is blended with activated charcoal. The kala namak variety has a 'sulfur' taste to it which is reminiscent of eggs — did you know that? I did NOT. So just learning this little peace of information make this workshop worthwhile — and there was much more!)

We also made mayo (super easy and quick!), and a couple of mayo-based spreads and salads. There was a mix of people at the class, some of them were vegan, some were not, and some were in transition. Everybody loved the recipes, even the omnivores — which is the best testimonial, because I (as a vegan) am heavily biased. Still, there were couple of people who said to me that they will be putting that eggless mayo on eggs – because they love eggs so much and cannot imagine themselves ever giving them up. SIGHT. But, regardless of that comment — this truly means the mayo was amazing. And easy. And inexpensive to make.
Teaching people in small groups how to make vegan food – while also talking to them about veganism, or maybe just handing out some brochures and resources for them to look at later on – is a great way to not just educate by giving information, but by giving them actual skills to make the transition to plant-based eating or veganism, and being able to maintain it.
The atmosphere was very casual, and the host didn't even do the presentation – other than giving us the handouts with recipes and clear step-by-step instructions, providing ingredients, as well as giving helpful tips along the way – it looked like something anybody could put together – easy peasy.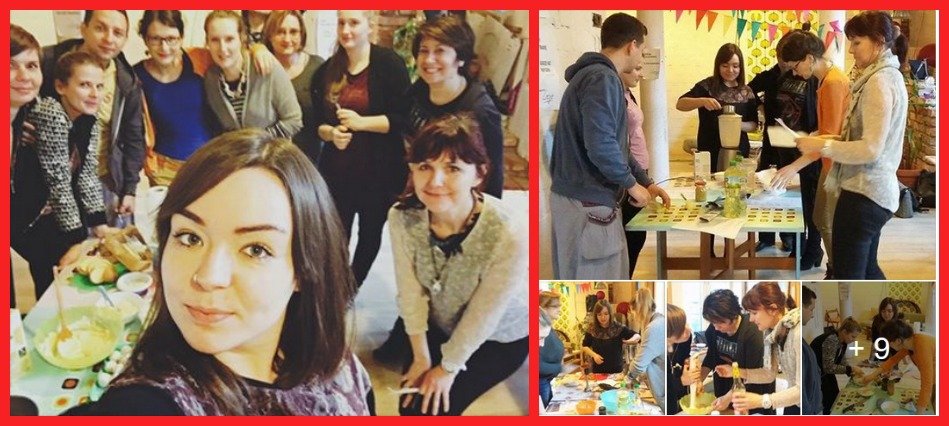 So, here is the thing.
Telling people about the horrors of the industrial farming, as well as opening their eyes to the cruelty of the small farm agriculture is not going to be sufficient for most people to make the transition to veganism. I know, because I've been vegan and the number of the people around me that went vegan with me – is exactly zero. Now, there are people who are eating waaay less meat and dairy than before – but they are not vegan.
And it's mostly because of the issues of convenience and taste.
People are busy. People are lazy. People are selfish. Unfortunately, that's the truth for all of us (including yours truly) — just to a different degree.  We've been so conditioned as human race to believe that we 'deserve' certain things, and that we cannot make 'sacrifices' — because that will be reducing our 'quality of life'. And besides, who has time for that.
Let's face it, most people don't even take good care of their own health, or the health of their family – just looking at the epidemic of obesity and chronic illness is the proof of that. So if they don't do that – when their own lives depend on it, what makes us think, that they'll do what's definitely not convenient for some individuals of different species that they never met or cared about?
Which brings me to this point that it's not enough to be educating and giving them information – even recipes, we must be also giving people the SKILLS TO MAKE THE TRANSITION to veganism and to STAY THERE.
We must not just TELL THEM.
We must also INSPIRE THEM. And SHOW THEM HOW.

And ultimately HELP THEM TRANSFORM THEMSELVES.
I've noticed there are very few cooking classes or workshops where anything is said about veganism and animals. I guess it may seem overwhelming, if you haven't done that before. But I want to encourage you to at least give it a thought and a try.
Here is why:
5+ Reasons Why Every Vegan Should Be Running Kickass Live In-Person Events & Workshops

You may be wondering why go through the trouble of setting up in person events, when you can just share information online with people.
Aren't those things passe in this age of virtual reality and social media?
As outdated, unnecessary or even scary as it may seem to many of you, doing in-person live events may still be
the best way to interact closely with another human (and non-human) being — as well as EASIEST AND MOST POWERFUL WAY TO INFLUENCE THEM, EDUCATE THEM, TRANSFORM THEIR LIVES, and even SELL TO THEM.
Here is why:
#1. MEET NEW PEOPLE: EXPAND YOUR CIRCLE OF INFLUENCE beyond your family and friends. Even if you regularly go to vegan meetups and potlucks, this is a way to BRING IN NEW BLOOD INTO YOUR CIRCLE OF INFLUENCE.
#2. INTERACT, ENGAGE, PERSUADE & INFLUENCE. It's much easier to do all those things when you are in the same room with a person. Even if you're a blogger, with thousands of people all over the world reading your blog — it is still worthwhile to meet your fans in person, or to find new fans/friends with whom you can interact in real time. You get to influence people much more than when you're exchanging emails or Facebook comments.
#3. BECOME AN INFLUENCER & LEADER. When you're running your own events, people will start to look up to you. You'll become a leader, an authority, an expert. You'll have more credibility. Ultimately, you'll make a bigger difference for the animals.
#4. HAVE FUN. It may seem scary at first, but it's actually fun to do it, once you get over yourself.  Showing and teaching the skills people need to be successful is fun and rewarding.
#5. MAKE MONEY. You can charge for the events, sell products at your events (for example, t-shirts, books, or coaching programs) or find clients at your events — it's actually much easier to sell to people who've attended your events than to those who merely visited your blog.
Not an Expert? No Problem!
5 Things You DON'T Need to Get Started

You may think that you're not the right person to do it, that you don't have the skills, the knowledge, the confidence.
Especially, if you went to cooking classes and demos before and they were done by professionals, it may seem overwhelming. You may think you need special training, special equipment, be a great presenter, know marketing, etc.
But truth is, you DON'T NEED all this stuff to get started.
I'll be talking about what you do need later on, but here is what you DON'T NEED to get going:
#1. You don't need any special skills or knowledge. You don't need to be an expert, or even a know-it-all. No special degrees or culinary training are required. And you don't need to know all the answers that people will ask you– just be honest about it and admit it (and promise to get back to them with the answer later on).

#2. You don't need to be a great speaker.  You can set up events to 'run themselves' (like workshops or masterminds, where you're only a facilitator, not a speaker) or partner with someone who'll be 'doing the talking'.

#3. You don't need to spend money on renting expensive venue or buying special equipment. The cheapest one is probably your home, but it may not be ideal, so I'll be talking about other free or inexpensive options as well.  You can partner with a local gym, wellness center, church or animal shelter, for example. When running cooking workshops, basic equipment will do (I would recommend at minimum a blender, but that also depends on the recipes that you'll be creating), and you can even ask the audience to bring their own hand blenders, or borrow stuff from your family and friends.

#4. You don't even need to be doing the cooking demonstration yourself, if you don't want to! (I'll show you 5 ways to 'outsource' the food demo part, so that you can just be there to enjoy yourself, and to raise awareness about animal issues.)
#5. In fact, your even doesn't need to revolve around cooking, you may choose different topic/angle — health, combating diseases with diet (you can partner with local gyms or health centers for that), fitness, gardening, business, etc. I'll give you plenty topic ideas, or show you how to come up with one yourself.
You can get more sophisticated, professional, certified, whatever — later on, but…
YOU CAN GET STARTED TODAY, RIGHT NOW, IF YOU WANT TO.
You don't even have to finish reading this article — if you're inspired and ready to go — GO!
But in case you need more clarity and details — keep reading…:-)
7 Easy Steps to Running Super Fun & Wildly Successful
Vegan Workshops & Events
#Step 1. Decide you're going to do it and commit to it!
This is critical. Make up your mind now! Pick a date and a type of event and mark it in your calendar. If it's your first time, give yourself at least two weeks or more, but not more than six. You don't want to be too far in the future, as then it may become a 'some day' project which usually means 'never'…
#Step 2. Choose a Topic and Event Type

Choose a topic and event type (cooking workshop, cooking demo, lecture, mastermind, potluck, or other). Choose something you're passionate about — you want your enthusiasm be contagious.
#Step 2. Get the Word Out
Tell people you know who may be interested. Print flyers and post them around your town. Announce it on your local social media pages — if you search on Facebook, you can surely find people to invite.  Ask people to register by signing up with their email, so you have a way to follow up with them.
#Step 3. Find Great Location

The easiest (and cheapest) is your home, but it may not be ideal. Other free or low-cost options include community centers, churches, or running your event at another business' location — such as a yoga center or doctor's office.
#Step 4. Get Ready
Plan what you're going to say. If you're going to do cooking workshop, choose the recipes. Print handouts with recipes and resources for people to take home. Rehearse, rehearse, rehearse. Do a test-drive for your family and friends a week before, if that's your first time. On the day before — buy your groceries.  Ask someone to be there at the event to assist you — this will take your mind off things like making sure everyone received their handout, etc.
#Step 5. Run Your Event!

Arrive early to set everything up. Greet all attendees personally. Introduce yourself at the beginning, and if the group is small, ask everyone to introduce themselves to the group. Run your event and try to have fun as you're doing it — it's contagious!
#Step 6. Follow Up With People

After the event, don't forget to follow up with people to check if they have any questions, or want to attend more events.
So that's it. It's not rocket science and really anybody can do it.
But… in case you still have more questions and need more help, I've created a course on How to Run Successful Workshops and Events that will give you the knowledge and confidence to go out and do it.
Let's Start Kickass Vegan Workshop Revolution —
Setting up a table showing people where their meat comes from is VERY POWERFUL. It can also be emotionally draining — for you as the activist.
It's akin to SHOCK THERAPY – to get people to STOP AND THINK about their choices.
So is handing out fliers in the street or taking part in protests and demonstrations, and animal rescues — these are all very effective forms of activism.
But, it's only the first step.
You need to also give people the TOOLS TO BE SUCCESSFUL AT BEING VEGAN.
Which means, we need more people not just advocating and spreading the message of ethical veganism, but ACTUALLY TEACHERS, COACHES, and EDUCATORS — who will take people by their hands and show them HOW TO DO IT EVERY DAY, AT EVERY MEAL, DURING EVERY TRIP TO THE GROCERY STORE, or VISIT AT A LOCAL RESTAURANT.
I want to give you all the tools that you may need to run classes, events and workshops, and make sure they're a SMASHING SUCCESS.
When is the best time to talk to people about veganism?
Well, of course, when you're face to face with them in the same room — so you can look them in the eye, ask them questions in a friendly, non-threatening way, when they cannot hide behind a fake computer names and photos.
When they're tasting delicious vegan food, and not when they've just ordered a steak, and feel defensive about their choices.
Why Do I Need This Course? What Will be Covered? Can't I Just Figure It Out Myself?
While you certainly can do it yourself – and you learn best just by doing it – here is what I can help you with:
Help you get organized. If you haven't done it before, it can be overwhelming. Get step-by-step instructions what to do each day, so that in two weeks or less, you can be hosting your first workshop or event.
Learn about different types of events that you may be running: workshops, classes, seminars, masterminds. What's what, and how to choose, depending on your goals, interests, and personality types – there is something for everyone I promise (even introverts, you know who I'm talking to!)
Best ideas for class topics to attract a variety of people, including omnivores, and not just those who are already interested in veganism – we want to expand our reach, and not keep preaching to a choir all the time. I'll give you several done-for-you pre-planned and tested concepts to teach.  (Hint: You don't have to do cooking demos/workshops if you don't want to).
Tips on finding location. There are plenty of options no matter where you live, both free and paid.
How to promote your class or event in your local community? How to get the word out about your event.
How to promote your class or event online? What are some of the best ways to set up a page for your event on Facebook, and other social media? I'll give you entire strategy mapped out on how to get your word out and find people who'd be interested in the topic.
Free or Paid? Pricing strategies depending on your goals. Hint: you can be doing it for free, charge minimal fees to just cover the costs, or make some serious money in the process, if you want to. I'll explain how to do it right, and make sure you don't make some of the most common pricing mistakes.
Tips on creating event checklist, class outline and planning your presentation.
Templates: handouts, posters, flyers, ads, checklists – it's all in there, which will save you time and money.
Tips on forming partnerships – with local yoga studios, doctors, gyms, animal shelters, etc.
And more!
So what's the investment?
Right now for a limited time, I'm running a promotion. Sign up for over 70% off at one-time fee of $97 — that's it!
SPECIAL BONUS SECTION #1:
Several ready-made class templates, including your guide to running a Wildly Successful & Fun Green Smoothie /Detox Class.  For many years, I have been running a successful green smoothie and juicing blog, and I know that people LOVE THIS TOPIC and WANT INFORMATION ABOUT THIS TOPIC. I strongly believe that green smoothies and juices are the reason why I haven't been sick for 5+ years since I started making them (that was even before I went vegan).  I also believe that green smoothies and juices were what made my transition to veganism so effortless.  So it's a great tactic — easy habit to teach people — to make their transition to plant-based eating EFFORTLESS while also IMPROVING THEIR HEALTH.  So, you'll be talking to them about veganism, while they're sipping delicious green smoothies and juices!
SPECIAL BONUS SECTION #2:
Your guide to creating a VIP Mastermind/ HIGH LEVEL PRIVATE EVENT Blueprint –  to bring in influences, movers and shakers into your world — and start making an even bigger difference.
There is no time to waste, take action now and organize your first event in just a few weeks.
Whether you purchase my course, or do it on your own — TAKE ACTION NOW!
If not you, then who?
If not now, then when?
Let's change the world together, SOONER rather than LATER.
Best,
Joanna
PS.  The time is now to take action and organize your first event in just a few weeks. Whether you decide to purchase my course, or not it's up to you, but I urge you to start taking action.  And if you decide to join me — I'll be delighted. Sign up HERE.