Just as there's no ONE WAY to show up in this world and be you, there is no ONE WAY to share your TRUTH and your MESSAGE with the world.
There is certainly no ONE RIGHT WAY to do it either.
YOU are unique, and your uniqueness – your perspective, your personality – is an important ingredient – even if your message is not unique, YOU and YOUR VOICE ARE.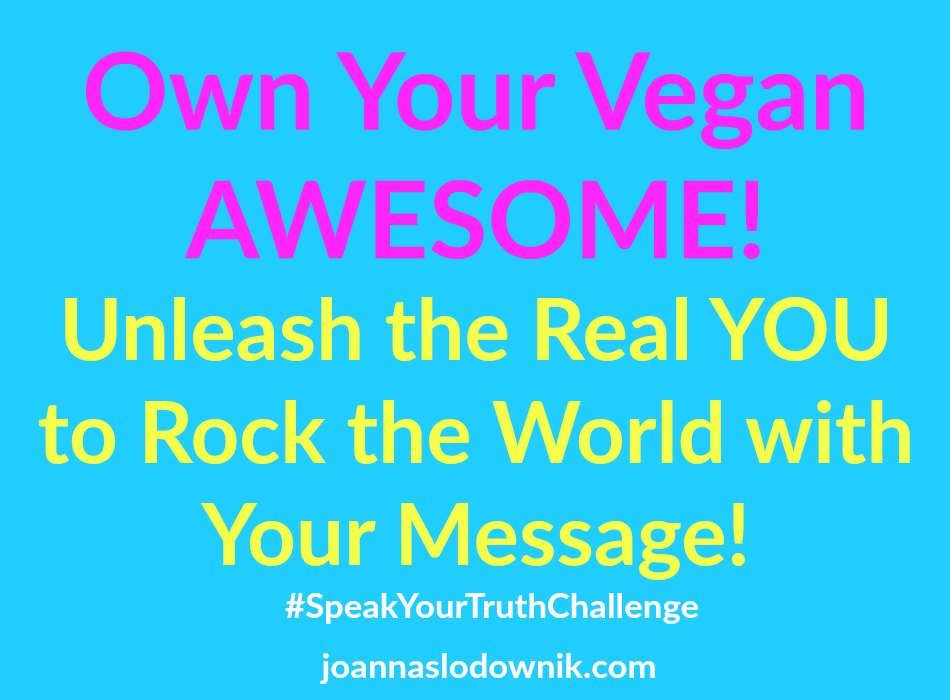 (This post is a part of a CHALLENGE that I'm running right now to #SpeakYourTruth – you can join HERE.)
The opportunities to be sharing your TRUTH and your MESSAGE – things that you really care about deeply and want to ROCK the world with — are endless. There are so many ways to do it – there is no reason to limit yourself to what you think is acceptable or what others think is appropriate. 
There is certainly no RIGHT or WRONG way to do it.
And I believe it all starts with OWNING YOUR AWESOME and have the courage, the audacity — to be YOU.
The world needs YOU.
Not the edited version of you, not the conform-to-what-society-expects version of you, but the FULL-ON, UNCUT, UNLEASHED version of YOU.
You have ideas that the world needs to hear about.
You know things that others are ignorant about.
You notice things that others are unaware of.
You have unique gifts, talents and perspective.
You care about things that others think are unimportant, or they are too lazy or too busy or too … whatever to take the time to explore.
You see things the way no one else sees them – understanding things the way only you can understand them, feeling them the way only you can, with your unique combination of strengths, and weaknesses….
The WORLD NEEDS YOU TODAY because…
YOU are uniquely qualified to CHANGE THE WORLD by OWNING YOUR AWESOME and BEING ALL YOU CAN BE.
Unapologetically.
Fearlessly.
Shamelessly.
YOU.
With all your quirks, struggles, weaknesses, and failings.
With all your abilities, talents, skills, and gifts.
With your unique story, background, and experiences.
No one else can do it but YOU.
But being YOU to your full potential, sharing your truth with the world and OWNING YOUR AWESOME takes work.
It's not automatic. It's not a given.
BECOMING TRUE YOU TAKES TIME AND EFFORT.
UNLEASHING the BEAST, the LEADER, the REVOLUTIONARY, the WARRIOR, the GOOD SAMARITAN, the PRINCESS – or whoever is hiding inside of you — requires commitment.
Warning: What you are today may not be true you. It may be difficult to tell which part is the 'true' you and which is other people, your family, the society; conformity to what's expected, the so-called customs and traditions – that's why becoming the true you is not a given; it's not automatic.
You don't become TRUE YOU just by the virtue of being born and living your life –
You become TRUE YOU by digging deep into your soul, peeling off the layers, and discovering what's hiding inside of you – the authentic, AWESOME you.
You become TRUE YOU and UNLEASH YOUR AWESOME by finding your truth and sharing it with the world.
You need to PRACTICE BEING YOU every day.
You need to work at being authentically YOU every moment of your life.
Unapologetically. Fearlessly. Shamelessly. YOU.
I know it sounds strange. It's confusing – how come I need to WORK at something that's supposed to be automatic, spontaneous, and natural – that doesn't make any sense, right?
And yet, when you think about it, it does. It makes perfect sense. If you don't work at being YOU, you become other people. You conform to what society expects from you. You become what your parents always wanted for you. You inhale their fears, their wants, beliefs, and aspirations – and you get confused by accepting what's not fully yours. Sometimes it's difficult to see where other people end and you begin. We like to talk about being independent and free – but we don't want to stand out too much. So in the process, we become an AVERAGE of what is out there.
We put yourself in a BOX with a couple of LABELS on it.
Don't let that happen to you!
So, depending how have you been living your life up to this point, it may take a lot of WORK to become a real you again, and even knowing your TRUTH.
(I certainly know I have a lot of work to do in that area!)
But let me ask you this –
Isn't it worth your time? Are you at least curious of what's hiding inside? Are you ready to unleash the power of YOU into the world?
Truth: People will judge you no matter what you do, that's part of human nature — so you might as well be judged for doing something that YOU TRULY BELIEVE IN in a way that feels AWESOME to you.
So stop being an edited version of yourself.
Stop doing what's expected. Comfortable. Average.
Be bold. Have the courage to be you and to stand for what you believe in.
To share your truth with the world.
And if you do it in an authentic way — by OWNING YOUR AWESOME — you'll even have fun in the process.
(How do you know the you that you've found is true you – it's by the way you feel it makes you feel inside.)
If you haven't tried it yet, by all means do! It's LIBERATING, UPLIFTING, and ENERGIZING!
Plus, it UNLEASHES the super-powers within you that you didn't even know existed.
(This post is a part of a CHALLENGE that I'm running right now to #SpeakYourTruth – you can join HERE.)
#SpeakYourTruth CHALLENGE: Own Your Awesome 
On a practical level:  Think what you love doing, what you're good at or what you might enjoy doing or learning. Your talents, your skills, your experiences, your education, your genius, your background, things you love, and things you hate, even your quirks and flaws. Everything that defines you.
I believe that each and every one of us has some unique capabilities, talents, perhaps genius even, that makes us UNIQUELY qualified to do that thing better than everyone else.  And through that work our TRUTH WILL SHINE THOUGH the best, making people stop and take notice.
Maybe it's through your writing, your art, drawings, video, speaking live on periscope, or whatever else….but – choose a method of speaking your truth that you'll most enjoy and that's EASY for you, something you're good at: writing, speaking, publishing on blogs, teaching, photography, video, graphic design, organizing events, cooking demos, publishing books, becoming a social media star. You don't want it to be a one-time affair, but something you'll commit to doing over and over again in the future. For example, if you hate writing, maybe recording audio will be a better option – you can still post it on your blog or create a podcast. If you are a shy introvert, then recording videos may seem like a chore, something unpleasant or really scary, definitely not something you should choose, unless you're really good at whipping yourself into taking action regardless of how you feel.
So if you know that about yourself – by all means choose it. And if you don't – then maybe it's time to find that out. It may be something that on surface seems unrelated to the TRUTH you want to share – but pretty much everything is or can be made so – with some creativity and imagination.
Your truth, your message can be shared in many different ways, using different mediums, via different channels, and have your energy, vibe, SWAG to it.
YOU are unique, and your uniqueness – your perspective, your personality – is an important ingredient – even if your message is not unique; you and your voice are.
And by telling you to OWN YOUR AWESOME, I don't mean to tell you to FEEL AWESOME all the time — in fact, a lot of the time you may not…but
If you're angry — vent your anger, let your ANGRY RANT out — it will make you feel better and lighter.
If you are sad — share what made you sad.
If you're bold — be even BOLDER.
If you're joyful — share your JOY — it's contagious!
If you're shy — well, in this case — stop! Stop worrying about what others will say or think, life's too short for that!
If you're outgoing and extroverted — speak, interact with people, feed on the energy of others — you thrive on that.
If you're introverted — write! As an introvert, I don't like to talk much, but I can certainly write down all the conversations I'm constantly having — in my head 😉 Or create art. Or whatever…
And share it all with the world.
As the challenge continues, I'll talk about how often should you be sharing your truth?
Let's change the world TOGETHER, SOONER rather than later.
If not now, then when?
If not you, then who?
Joanna
PS.  If you'd like to work with me I'm opening a few spots to work with me in 2016 one-on-one Private Coaching and Consulting to HELP YOU BUILD YOUR ONLINE EMPIRE to have a platform to publish your TRUE MESSAGE, start attracting followers who RESONATE WITH YOU, love you and want to listen to you, and start creating your LEGACY online — and start making a bigger difference in the world, while living a life that's full of passion, purpose and joy (isn't it what it's all about in the end?).  I'll guide you through all the confusing technical details of setting up a website/blog, social media strategy for DOMINATION and AUTOMATION, help you get your first book written and published, and whatever else you've been dreaming to do online (–I'll even do those things for you if you don't have them and are technically challenged, and teach you how you can do it yourself from now on).  I'll also work with you to help you fine tune your message and find your tribe. I've been doing online marketing for many years — so I know what it takes to succeed.
Sign up for the 6 Weeks of INTENSIVE One-On-One 2016 Private Coaching, Consulting and Mentoring program for $997 HERE (or get payment plan 3 payments of $397). If you'd like a strategy session first to discuss whether or not we're a good fit – sign up for a $97 session HERE.
.
PPS. Not ready for big commitment? Then check out one of my other programs and challenges, including the #SpeakYourTruth CHALLENGE and unleash your inner warrior.  It's about sharing our truth with the world, telling it like it is — the way we see it, and taking ACTION. Join HERE.