I've recently discovered millet — and I'm so excited about it that I just have to share it with you!
Well, to be exact, I DID know about millet (as you probably do too), and I even tried it a couple of times — without much success — which means I didn't really like the taste and texture when I was adding it to soup or as a side dish to the main course. I really thought it was just BLAH — nothing special, and my son hated it too!
But I re-discovered it recently as an addition to smoothies, blended desserts (millet is a great alternative to cheese in cheesecake — which I'm going to try soon!), home-made milks, as well as savory pates (pasztet) — and I'm LOVING IT! When blended with some sugar and water (or other plant-milk), and some fruits and spices — it's simply heavenly!
So if you ever tried millet and hated it, I encourage you to give it another chance. You may really be surprised!
So, here is a recipe for a breakfast meal or smoothie — depending how thick you make it.
This smoothie can be eaten as a breakfast, snack or a meal in itself. Make it thicker, add more sweetener (sugar or other) and it's a perfect dessert. Make it with frozen strawberries and eat it as a frozen dessert, especially on hot days.  It's gluten free. It's dairy free. It's vegan! #hellYESitsVegan
#Hell-YESitsVegan Strawberry-Millet Breakfast Smoothie (Meal) Recipe
Ingredients
2 cups millet (pre-cooked)
1 cup or more strawberries (fresh or frozen) 250 g of strawberry
300 ml plant milk or water
2 tablespoons sugar or maple syrup, use more or less to your taste (or other sweetener)
½ vanilla pod (optional)
Method
Blend all ingredients together until smooth. Enjoy!
If you don't like the slightly bitter taste, then try rinsing it in boiling-hot water before cooking.
The addition of natural vanilla and sweetener in the form of maple syrup complements the rest of my millet smoothie making a healthy meal and incredibly tasty. I would recommend for anyone on a gluten-free diet and slimming, and those who depend on healthy eating :))
To make it into two-colored meal or smoothie, blend millet with milk and sweetener first, pour half of the mixture into a dish or glass; then add strawberries to your blender, blend, and pour the rest. Cool? See below if the instructions are too convoluted to see what the result looks like. 😉
(It's kid friendly too, here is my son's photo I took sneakily while he was DEVOURING it, so – as they say – the proof is in the pudding!)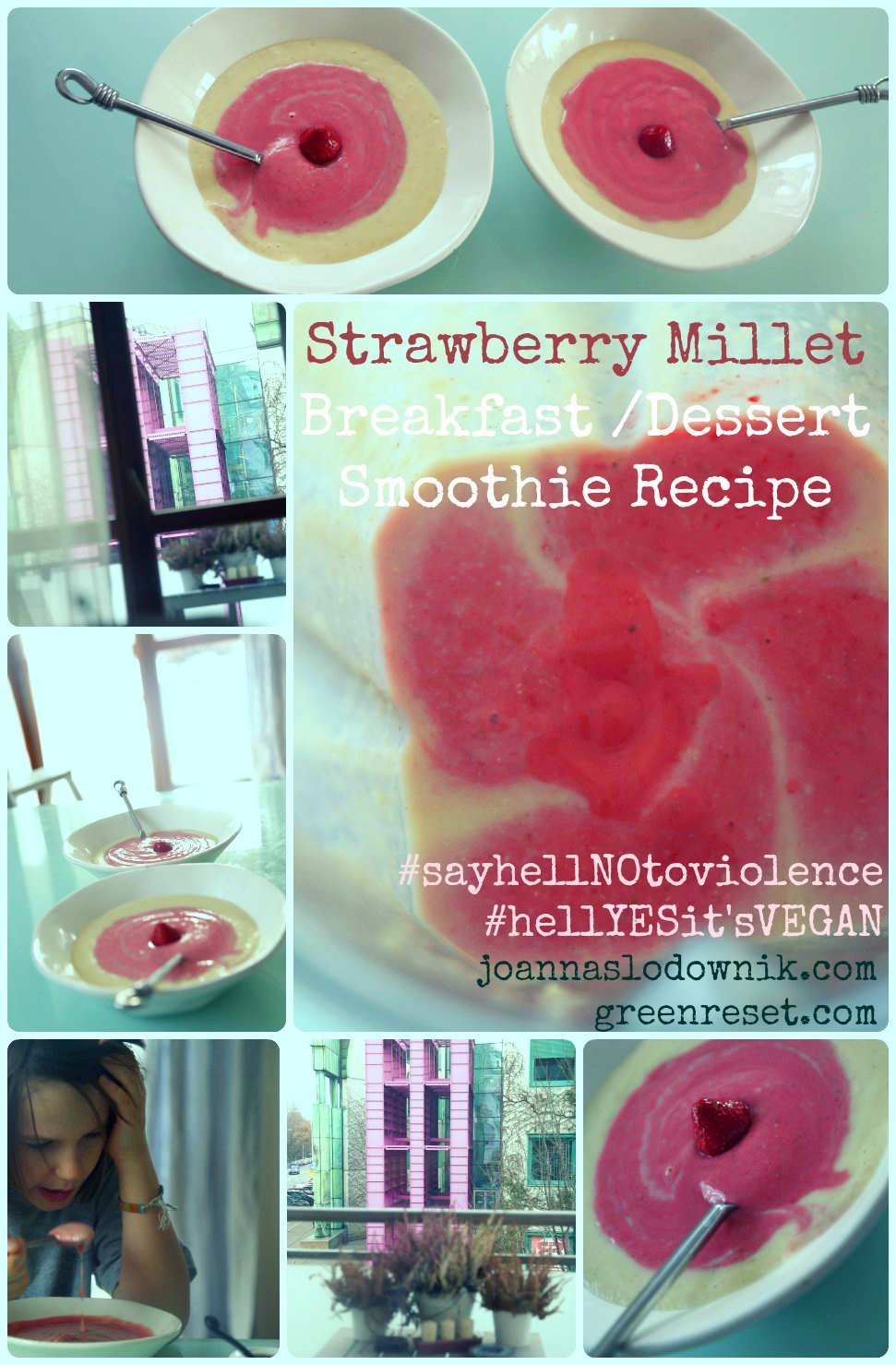 #sayhellnotoviolence
#hellYESitsvegan
the #REVOLUTION begins in your own F*CKING KITCHEN
By trying this recipe you will:
Say Hell-NO! to cruelty and violence.
Say Hell-NO! to exploiting mothers and their babies.
Say Hell-NO! to taking something that doesn't belong to you.
Say Hell-NO! to caveman mentality – we've left the caves long ago, so why are we still behaving like we belong there.
Say Hell-NO! to using (and abusing) someone for your own pleasure and gain.
Now, I don't want anybody to think that I'm a negative, angry, menopausal, vegan bitch; and we don't want people to thing about you in this way either; so here is the same thing stated in a more positive way ;-):
Say Hell-YES! to compassion and living your deepest values.
Say Hell-YES! to caring about others, regardless of their race or species.
Say Hell-YES! to being gentle and caring.
Say Hell-YES! to evolving to the next stage of development of the human spirit and mind.
Say Hell-YES! to re-inventing traditions and customs and creating new ones – that suit our evolved consciousness.
Say Hell-YES! to justice for all.
Say Hell-YES! to veganism.
Peace and love,
Joanna
PS. Want more recipes and kicking your butt into action? Join my community!
If you're vegan, but want to take your nutrition to the next level, check out my Green Reset Formula Challenge and Membership program.
And if you're not vegan yet – then WHY THE HELL NOT?
What are you waiting for? If excuses and beliefs have been holding you back – that it's just too hard, that you'll be hungry, that's not healthy, or whatever – POOR YOU!  — I completely understand, that's why I've created this program that will INSPIRE YOU, MOTIVATE YOU, and GIVE YOU THE RIGHT INFORMATION to become the kick-ass vegan and an UNSTOPPABLE FORCE FOR GOOD IN THIS WORLD that you always wanted to be in a way that's DELICIOUS, SUPER-HEALTHY, will give you ENERGY, all the PROTEIN and other NUTRIENTS that you need, and take years off how you look and feel.