I've collected a few creative ideas for teaching your kids about turkeys this holiday season.
1)     Teach your children about some of the following fascinating facts about turkeys: turkeys have great memories, they like to swim and fly, they care about each other, they enjoy being pet, and if they know you well they might just give you a turkey hug. Teach them about the basic needs of a turkey. Then have your child color in a picture of a turkey and write a brief paragraph about what a turkey would be thankful for.
2)     Help your kids get to know turkeys by sharing videos of turkeys (like this one and this one) from farm animal sanctuaries. Through the videos, students will be able to observe a turkey's natural behaviors. You can also share the stories of actual turkeys who have been rescued and who are living at sanctuaries. You could have them make biography posters of their turkeys. They could include his or her pictures, his or her rescue story, and the species' unique qualities.
3)     Turkeys are sweet sentient animals who want to be loved and cared for. Consider teaching your kids about reverence and empathy for turkeys using these great children's books: 'Twas the Night Before Thanksgiving by Dav Pilkey and A Turkey for Thanksgiving by Diane de Groat. Both of these books are sure to warm the hearts of your children and help them to appreciate how special turkeys can be.
(Adapted from Institute for Humane Education)
Fun Coloring Pages for Thanksgiving
Check out these turkey-friendly coloring pages for kids. Unfortunately the book they come from, Happy Thanksliving!: A Coloring Zine by Nathalie VanBalen, is hard to come by, but I've found these pages that you can print out for your kids (and adults too!) in your family.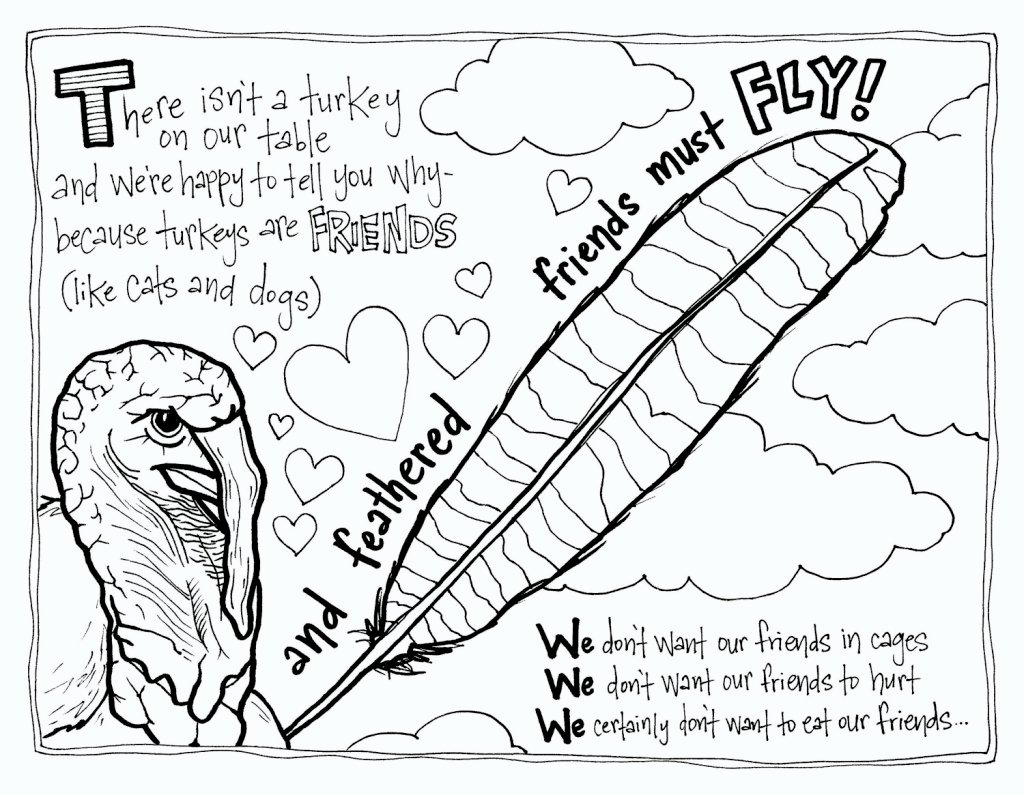 (via Vegbooks)
9 Turkey-Friendly Children's Books for Thanksgiving
Traditionally, stories involving Thanksgiving end up with a turkey on the table, but as more families are celebrating Thanksgiving by seeking more mindful and compassionate choices, they're also looking for children's stories where the turkey has a happy ending. Here are 9 turkey-friendly picture books.
Over the River: A Turkey's Tale by Derek Anderson. 2005. (40 pgs) Gr. Pre-K-3.
Provides some new twists to the traditional song, as a turkey family is traveling to Grandma's and must outsmart a young hunter on the way.
Turkey Surprise by Peggy Archer. 2007. (32 pgs) Gr. Pre-K-2.
A turkey being hunted for Thanksgiving dinner tries to hide from two brothers. When one of the brothers decides he'd rather not eat a turkey, he convinces the other that pumpkin pie would be so much tastier.
A Turkey for Thanksgiving by Eve Bunting. 1995. (32 pgs) Gr. K-3.
Mrs. Moose asks her husband to bring home a turkey for Thanksgiving, but what they turkey doesn't understand is that they want him to join them FOR dinner, not BE the dinner.
Albuquerque Turkey by B.G. Ford. 2005. (36 pgs) Gr. Pre-K-3.
A rhyming story (that can be sung to the tune of "My Darling Clementine") in which a man prepares a Thanksgiving feast for his pet turkey.
Run, Turkey, Run! by Diane Mayr. 2009. (32 pgs) Gr. Pre-K-3.
Turkey manages to camouflage himself from the farmer until he gives up and spares the turkey from being dinner.
'Twas the Night Before Thanksgiving by Dav Pilkey. 2004. (32 pgs) Gr. Pre-K-3.
Follows what happens when a group of school children visit a turkey farm and decide that the turkeys shouldn't become anyone's Thanksgiving dinner.
The Best Thanksgiving Ever! by Teddy Slater. 2007. (32 pgs) Gr. Pre-K-2.
A rhyming tale of a turkey family who comes together to celebrate Thanksgiving.
Happy Thanksliving!: A Coloring Zine by Nathalie VanBalen. 2011 (20 pgs) All ages.
A coloring zine for all ages, with a delightful rhyming story featuring a joyful, compassionate Thanksgiving feast.
Turk and Runt by Lisa Wheeler. 2005. (32 pgs) Gr. PreK-3.
"Runt" has figured out why people come to the turkey farm in November, but no one believes him at first.
(by Marsha Rakestraw via Institute for Humane Education)
Happy Thanksgiving,
Joanna
PPS. Join me on this upcoming challenge – 'Re-Imagine the World as Vegan' Challenge for Vegan Warriors, Revolutionaries, Bloggers, Writers and everybody else who wants to start making a bigger difference for the animals – both human and non-human ;-). Sign up here: