Definition of Tradition: 'The reason for doing things which have no apparent reason.'
Son: "Dad, why are you peeing on the cat"
Dad: "Because it is Tradition God Damnit. Every July 23rd we pee on a cat. My Father peed on a cat, his father peed on a cat and you're also gonna pee on the cat." (definition via UrbanDictionary.com)
As humans and human civilization evolve, so do the existing customs and traditions need to EVOLVE.
Or, to put it bluntly:
Traditions that are totally MESSED UP simply MUST EVOLVE OR DIE!
(I never swear or use this kind of language, but sometimes it's really the only way to call attention to something that's just WRONG, so I'm re-thinking my language after reading this post.)

Some people feel offended when their favorite recipes get "butchered" or ruined (in their opinion)—not just by the fact of CHANGING it, but especially by the use of "undeserving" ingredients—usually when animal ingredients are replaced with plant foods.
Many dishes in national cuisines will need to evolve with the adoption of compassionate and just way of living and eating. I'm sure many people will bemoan disappearance of traditional dishes as roasted turkey for Thanksgiving or BBQ ribs for the Fourth of July. 
However, if we look objectively at what this food really is and what it represents–violence and death–we should NOT feel sadness or regret. Rather, these feelings should be replaced with joy and satisfaction (happiness, even!) coming from the realization that no one has been hurt in the process of making of the food.
One of the dishes that definitely needs to get its act together and EVOLVE is the TRIPE SOUP.
To an unsuspecting dinner guest, a bowl of flaki may seem to contain thick noodles, but in truth they are strips of beef tripe in a rich marjoram-flavored broth.
Tripe, or flaki in Polish (meaning 'guts').
Tripe soup is a common dish in Balkan, Bulgarian, Greek, Turkish, and Eastern European cuisine. The Polish name is flaki or endearing version – flaczki which is a traditional Polish stew.
As a child I hated flaki with all my heart, as most children do. It's definitely an acquired taste, especially considering how it's made —even for meat eaters, the ingredients of the soup can be questionable, and often too much to stomach ;-)—the more delicate types may be disgusted by the main ingredients and refuse to even try it. Nonetheless, it is one of the many soups that are considered to be an important part of the Polish tradition, served at parties, weddings, various celebrations, are a popular and well-liked dish. Its name is derived from its main ingredient: thin, cleaned strips of beef tripe (in Polish: flaki, which can also be literally translated to "guts").
Flaki has been consumed on Polish territory since the 14th century. Common ingredients include beef tripe, beef, bay leaf, parsley, carrot, broth, and spices to taste, including salt, black pepper, nutmeg, sweet paprika, and marjoram. Sometimes pork tripe can be used instead of the beef tripe especially in the ready-made versions of the dish sold in Poland. A variant of flaczki, in which fowl stomach is used instead of cow's, is also known and called 'flaki drobiowe' (poultry flaki). Flaki is eaten with fresh bread, usually with bread roll.
The main appeal of flaki, however, is not in the body parts that are in it (at least not entirely) – it's in the seasoning. And there is usually a lot of it! Perhaps due to the fact that there was a need to mask certain unpleasant tastes and smells, perhaps due to the fact that it would be completely unpalatable without them, but the fact is that soup is rich in various herbs and spices – and this richness and the specific combination can be preserved in a new DELICIOUSLY EVOLVED version – with oyster mushrooms replacing the animal body parts. 
Let me tell you that since I've tried it the first time – I've made it many times, it's just so good.
There is really no reason that new and EVOLVED variation shouldn't replace the current version of this dish.

This soup is QUICK and EASY to prepare, tastes DELICIOUS, and is totally COMPASSIONATE!
All these are SUPER IMPORTANT TO ME—and I hope for you too!
Obviously, if you never tried tripe soup before, you'll have nothing to compare it to, but that shouldn't stop you.  The soup should be full of flavors, so don't be afraid to add more spices than listed below. The soup can be mild or hot by adding some hot pepper (or cayenne). The hot version is ideal for cold winter days.
Try this soup and you may find yourself discovering a new recipe to make into your FAVORITE RECIPES to make.
It's a great hang-over dish, too.
Tripe Soup with Oyster Mushrooms Recipe



Ingredients:
a few tablespoons of oil
1 lb or 500 g oyster mushrooms
1 onion
1 parsley
1 carrot
1/4 large celery root
1 potato (optional)
2 bay leaves
3 allspice
1/2 teaspoon dried ginger
2 teaspoons marjoram
a pinch of freshly grated nutmeg
1 tablespoon sweet paprika
hot pepper or cayenne pepper to taste
6-8 cups of water or 2 liters of water
salt and black pepper to taste
Method:
 Clean the mushrooms thoroughly and cut into thin strips. Peel carrots, parsley, celery, and onion, and cut them into small pieces.

 At the bottom of a large pot, heat the oil, and add chopped vegetables and mushrooms with bay leaves and allspice and simmer for 15 minutes on a low heat.

Add spices and pour the water with a teaspoon of salt. Cook covered for another 15 – 20 minutes until vegetables are tender. At the end of cooking check the seasoning and add more salt and pepper, if needed. Let the soup stand for 15-30 minutes to allow the seasonings to blend. 

Serve hot with a side fresh bread.  Enjoy!
Serves 4-6.

Oyster mushrooms are AMAZINGLY VERSATILE and super HEALTHY AND NUTRITIOUS.  Just so you know, they contain proteins, vitamins (especially B group B2, B6), folic acid, and other nutrients (phosphorus, potassium, magnesium, zinc, sodium, iron, copper). They also contain cancer-fighting substances and enzymes that lower cholesterol in the blood. Recent studies show that eating foods containing folic acid and vitamin B6 reduces the risk of cardiovascular disease by as much as half. Mushrooms can be eaten fresh, freeze, dry, salt, pickle, marinate. The tastiest mushrooms are young, usually eaten on their own hats. Fresh mushrooms can be used in the preparation of meals cooked, stewed and fried. They have deliciously chewy texture — so are great as meat substitutes in hot and cold appetizers, soups, tripe, casseroles, omelets, stuffing for dumplings and pancakes. They are delicious fried or grilled.
I've come across them in many farmers markets in the U.S., but they were all very small — I'm not sure if they were just young or it was a type of mushroom that didn't grow any larger. Anyway, since moving to Poland — I've been re-discovering these mushrooms — and they are AMAZING! You can buy them in many stores here, and — most importantly — they are much larger, so you can use them to make many delicious dishes (I'll be providing recipes very soon) — including this TRIPE SOUP.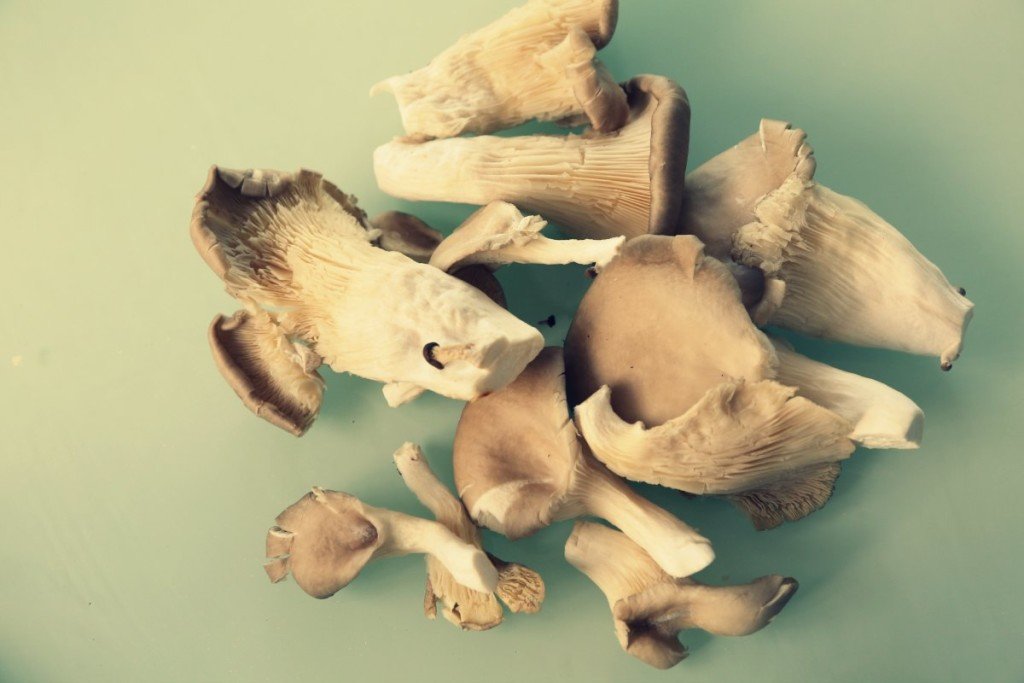 Another recipe that I remember from my childhood is Czernina [t͡ʂɛrˈɲina] (from czarny "black"; sometimes also Czarnina or Czarna polewka), which is a Polish soup made of duck blood and clear poultry broth. My grandmother used to make it. She'd have to kill a duck by slitting her throat, and then drain the blood while it was still warm … Yeah, I know…. totally fucked up.

What recipes do you know that are totally FUCKED UP that need to EVOLVE OR DIE?

Let's change the world TOGETHER, SOONER rather than later!
If not now, then when?
If not us then who?
Joanna
PS. If you'd like to try some of my other soup recipes, you'll find them in my book on Amazon: Soups! Creamy, Thick & Satisfying Soups that Fill You Up Without Increasing Your Waistline, Raising Your Blood Sugar or Cholesterol Levels, or Compromising Your Ethics
You'll find more amazing soup recipes in my book:
Soups! Creamy, Thick & Satisfying Soups that Fill You Up Without Increasing Your Waistline, Raising Your Blood Sugar or Cholesterol Levels, or Compromising Your Ethics
If you're wondering what make the soups in this collection different than those you could find in any other recipe book, consider the following:
Rich, Creamy Soups without Guilt – Low in fat, low in cholesterol (or cholesterol free), low in sodium. I teach you techniques to create super rich and luscious soups that are sure to impress your friends and family, without the added fat and cholesterol. If you are on a diet, there is no need to deny yourself these comforting creamy soups, if you use the ingredients that are healthy and perfect for weight loss.
Immunity Boosting, Cholesterol-Lowering and Anti-Inflammatory Benefits – These soups are chock full of healthy ingredients, that have been proven to posses immunity-boosting, cholesterol-lowering and anti-inflammatory properties.
Plant Based– All of the recipes in this book are plant based to help you get more variety of vegetables into your diet.
Low Fat– These soups are based on water or vegetable broth and do not contain overly fatty ingredients. The only fat comes from the occasional use of almond, cashew or coconut milk to add a little bit of creaminess to some of the blended soup recipes.
Can Be Made with Vegetable Stock or Just Water -No time to cook homemade stock, and don't want to spend money on store-bought?  I give you easy techniques to make delicious soup with just water.
No Oil – These soup recipes contain no oils. I'll show you how to cook without oil and sauté your onions in vegetable broth instead to cut the fat.
Mostly Gluten Free – The majority of these recipes are gluten free and the few that have pasta or flour you can either omit or switch for a gluten free brown rice pasta or gluten free ingredient of choice.
Mostly Soy Free– Some people are allergic to soy or choose to avoid it. Some recipes that use soy also provide easy ways to substitute with other ingredients.
Low In Sodium – Did your doctor tell you to reduce salt in your food to help bring that blood pressure down? I teach you techniques to reduce the amount of salt in your food without compromising on the taste. You can also omit the salt completely or just sprinkle a little bit of salt in your soup at the table.
What's Included
This new eBook contains over 50 great low fat, low cholesterol, super-healthy comfort soup recipes.
But it contains so much more than recipes!
I've included a ton of information on the art of making soups. For example, you will discover:
How to cook without oil (two ingenious ways)
A list of spices and ingredients you should keep in your cupboard at all times to make virtually all the soup recipes
How to cook your own beans from scratch
The most delicious recipe for homemade vegetable broth!
My most important tips for making the best vegetable soups, so they turn out great every single time
What tools you should have in your kitchen, and which ones are completely unnecessary
Here's a sample of the 50+ soup recipes in this amazing collection
Soup Recipes
Easy-Peasy Cream of Broccoli Soup
Mixed Vegetable-Bean Soup
Vegetable-Peruvian Quinoa Soup
Butternut Squash-Apple Soup
Butternut Squash-Pear Soup
French Onion Soup
Cream of Celery Root (Celeriac)
Creamy Potato Leek Soup
Creamy Cauliflower Soup
Zucchini Garlic Soup
Cream of Asparagus Soup
Cream of Cremini Mushroom Soup
Cream of Wild Mushroom Soup
Mushroom-Barley Soup
Beet Soup (Borscht)
Clear Beet Soup (Clear Borscht)
Kale and White Bean Stew
Escarole & Lentil Soup
Spinach, Mustard Green & Potato Soup
Lentil and Vegetable Stew with Spinach & Seaweed
Sweet Potato, Coconut & Kale Soup
Vegetable Barley Soup
Lemony Lentil Soup
Thick Sweet Potato & Corn Soup with Leafy Greens
Sweet Potato & Quinoa Soup
Quinoa Soup
Cauliflower, Kale & Bean Soup
Bean, Quinoa & Spinach Soup
Curried Parsnip Soup
Cabbage Tomato Soup
Curried Cauliflower & Yellow Split-Pea Soup
Kale, Bean & Rosemary Soup
Curried Squash & Red Lentil Soup with Cilantro
Curried Lentil Soup with Fennel & Cilantro
Just-Like Chicken Noodle Soup
Dill Soup
Old-Fashioned Creamy Tomato Soup
and more….
Sign up for the Green Reset Revolution HERE–>>>
If you would like to know more–>>GO HERE–>>>
See you on the other side!
Joanna